PROPER - ARTIST/PRODUCER/ENGINEER/GRAPHICDESINGER/VIDEOGRAPHY/PHOTOGRAPHER/WEBDESIGNER/PROMOTER/ENTERPRENEUR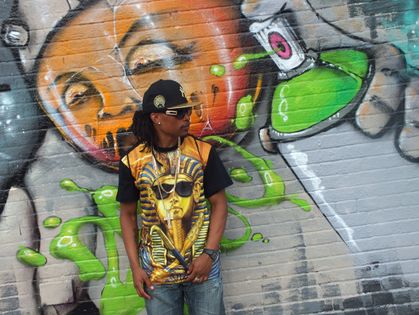 WHAT'S GOING ON WORLD I AM A ARTIST THAT GO BY THE NAME PROPER. I WAS BORN AND RAISED IN BRONX, NEW YORK AND MOVED TO VIRGINIA BEACH, VIRGINIA TO FINISH UP SCHOOL. I START GETTING INTO MUSIC WHEN I WAS IN ELEMENTARY SCHOOL IT WAS ALWAYS ONE OF MY FAVORITE SUBJECTS IN SCHOOL. WHEN I WAS IN CHORUS CLASS I ALWAYS LOVED THE SOUND OF MUSIC HOW THE VOCALS MEET THE MELODY OF THE TUNE. FROM THEN ON I HAVE BEEN MAKING MUSIC. IN HIGH SCHOOL I USE TO HAVE RAP SESSIONS SOMEONE MADE A BEAT BY BANGING ON THE CAFETERIA TABLE WITH ONE HAND PENCIL THE OTHER. I WANTED MUSIC SO MUCH MY FRIENDS AND ME DON'T HAVE A STUDIO I BOUGHT A KARAOKE MACHINE AND WE PRACTICE BY LISTENING TO THE BEAT RECORDING OURSELVES UNTIL WE FOUND A STUDIO. BY ASKING AROUND I FOUND OUT A FRIEND I WENT TO SCHOOL HAD STUDIO AND THAT'S WHERE I RECORDED MY FIRST MIXTAPE. FROM THEN ON I HAVE BEEN MAKING MUSIC FOR 15 YEARS NOW. I WAS IN A HIP HOP SLASH R AND B GROUP CALLED 2 CONCEPTS AND WE PERFORMED STAGE ON FOR THE FIRST TIME AT STATION 2 IN NORFOLK, VIRGINIA AND WAS OFFERED TO COME BACK. SO WE CAME BACK AND THE CROWD LOVED US AFTER THE SHOW WE WAS PULLED TO THE SIDE AND OFFERED TO PERFORM AT MORE EVENTS. FROM THEN ON I HAVE BEEN DOING SHOWS. I PERFORMED AT THE JEWISH MOTHER IN VIRGINIA BEACH, VIRGINIA, THE GUESTHOUSE IN MANHATTAN, NEW YORK, B.B.KING'S AT THE UNDERGOUND MUSIC AWARDS IN MANHATTAN, NEW YORK, SOB'S IN MANHATTAN, NEW YORK, CLUB EDEN,THE CHINA LOUNGE, THE HEAVEN LOUNGE, SWEET WATERS IN THE BRONX, NEW YORK, UNITY AND PEACE EVENT IN BRONX, NEW YORK, THE CANDY LOUNGE, 105.1FM SHOWCASE EVENT IN CONTONA PARK IN THE BRONX, NEW YORK, STOP THE VIOLENCE BLOCK PARTY AND WEBSTER HALL COAST 2 COAST MUSIC INDUSTRY MIXER NYC EDITION WITH TONE TRUMP AND FREEWAY IN MANHATTAN, NEW YORK. I HAVE ON T.V SHOW LIKE VIDEO CITY TELEVISION, PRINCESS LANITA SHOW, FEATURED EXPOSEDVOCALS.COM, FEATURED ON NEW YORK HOTTEST MC's,  YOUR CALL TO BE HEARD, AND ROYAL SOUL CONNECTIONS. I BEEN ON RADIO SHOWS LIKE 106.3FM ROYAL RADIO,91.3FM PARTY RADIO,HOT 97FM,HOT 9PFM,NEW JAMZ 99FM, AND SNM UNSIGNED 99.9FM. I GOT MY ALBUM "FROM THE HEART TO THE BEAT" ON ITUNES AND OTHER INTERNET STORES AROUND THE WORLD. MIXTAPES ON DATPIFF.COM AND VIDEO ON YOUTUBE.
CHECK MY WEBSITE @ http://www.theproperstatusmusic.com   
ADD ME ON FACEBOOK @ http://facebook.com/mustafa.glover 
LIKE ME @ http://facebook.com/theproperstatus
FOLLOW ME @ http://twitter.com/proper83
SUBSCRIBE ME @ http://youtube.com/properstatus24
BECOME A FAN @ http://reverbnation.com/theproperstatus
DOWNLOAD MY MIXTAPES @ http://www.datpiff.com/profile/ProperStatus27/mixtapes

Now, put these scripts at the end of your page. They contain the parameter preferences in JSON format.